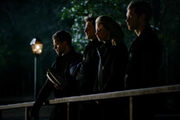 Always & Forever denotes the fourth through sixth seasons of The Originals (tv series).
Arc Summary
Edit
This arc picks up seven months after the family flees the French Quarter, the result of losing a turbulent battle for their home. The Old Ones, a special type of vampire, follow them and have a special interest in Angelique Mikaelson. Presidential candidate Taylor Kingston pinpoints Klaus as the perpetrator of a harrowing event on New Years' Eve and sends his most trusted after the hybrid. The rest of the siblings have scattered in the wake of Markos' terrifying powers, leaving Klaus alone. Elijah finds himself in Tibet, training absolute control with a mysterious gentleman. Elsewhere, Angelique begins to succumb to her darker instincts, and new players in the game catch Klaus off guard. Meanwhile, Christabella begins playing the various sides against each other. As Finn spirals, Kol finds sympathy for the "eternal sycophant." Mikael takes upon himself a protegee, his desire for vengeance temporarily sated.
Main Cast
Edit
Whole Arc (all 3 seasons)
Edit
Partial (1-2 seasons)
Edit
Recurring & Guest Cast
Edit
SEASON 4
SEASON 5
SEASON 6
Community content is available under
CC-BY-SA
unless otherwise noted.